Redbank Valley
Church Association
Food Pantry
441 Broad Street
New Bethlehem, PA. 16242
(814) 367-3331
Mailing Address:
P.O. Box 75
New Bethlehem, PA. 16242
Food Bank vs. Food Pantry
Food Bank vs. Food Pantry
What's the difference?
The Redbank Valley Church Association (RVCA) Food Pantry has helped provide food assistance to qualifying families in the area since 2001, with dozens of volunteers joining forces to help with the many steps of collecting, shelving, and distributing food on a monthly basis.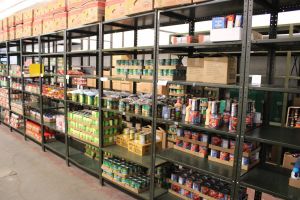 The RVCA Food Pantry originally served only the residents of the Redbank Valley School District which lies in two counties – Clarion and Armstrong.  All food distributed was supplied by the church association.  Later, food supplied by the state and federal governments became available for distribution only to Clarion County residents who have not received such food elsewhere that month; Armstrong residents must go to Oak Ridge, Kellersburg, or another Armstrong site for the food provided with government funds.
The food pantry operates out of the former Krouse Auto Parts store at 441 Broad Street in New Bethlehem.  Food distribution occurs twice a month – the morning of the second Tuesday for the participating patrons in Broadwood Towers and South Bethlehem House, and on the third Tuesday from 9AM to 2PM for the qualifying general public. On food distribution days, patrons may receive up to two or three boxes of food depending on the size of the household unit and on their residence (see the guidelines below). Household units may vary from a single person to families of eight or more.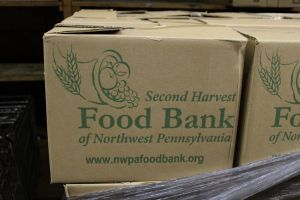 Even if the actual food distribution is primarily confined to two half days a month, its operation is an ongoing process. Between the distribution days are behind-the-scenes services ranging from unloading a truck from Second Harvest in Erie (normally on the morning of the first Wednesday of the month) to the gathering of breads or baked goods six days a week from the cooperating Tom's Riverside Market.  A volunteer usually picks up Goober Jelly from Smuckers each month, and other items are collected on varied days, as available, from other sources.
The truck from Second Harvest delivers food made available with funds from the state and federal governments.  It also brings food that has been donated by individuals, corporations, and other organizations.  For such donated food, the RVCA pays a nominal "shared maintenance" charge of approximately fifteen cents per pound.  State and federal regulations govern the income and residence requirements for receiving the food supplied by government sources.  RVCA guidelines establish such boundaries for the distribution of donated food.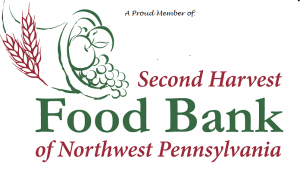 Opportunities for service are many and varied, allowing participation by volunteers of almost any age or ability level. Tasks range from the heavy lifting required to unload the Second Harvest trucks, place cases of canned goods on shelves, or load food into cars to the light work of setting a few cans on a shelf or doing the required paperwork associated with the operation of the program.
All households must meet income eligibility guidelines in order to receive food from the food pantry.  (The income guidelines below are based on 150% of Poverty.)
# of Members
Annual
Monthly
Weekly
1
$18,210
$1,518
$350
2
$24,690
$1,058
$475
3
$31,170
$2,598
$599
4
$37,650
$3,138
$724
5
$44,130
$3,678
$849
6
$50,610
$4,218
$973
7
$57,090
$4,758
$1,098
8
$63,570
$5,298
$1,223
For each additional family member, add:
$6,480
$540
$125
Those who reside in Clarion County and in Redbank Valley School District can receive state, federal, and RVCA food.
Those who reside in Clarion County and not in RVSD may receive state and federal food.
Those who reside in Armstrong County and in RVSD are eligible to receive only RVCA food at the food pantry in New Bethlehem.  They may go to Oak Ridge, Kellersburg, or another Armstrong site to receive the government-supplied food.
Anyone receiving food from the RVCA Food Pantry must complete and submit an application form each year.  The income guidelines change at the end of June, so the form must be submitted in July or when receiving food for the first time after that.  You may download the form below or just go to the food pantry on the third Tuesday of any month between 9AM and 2PM to fill out a form and receive food.
In crisis situations, people who would otherwise not meet all the guidelines may receive a one-time emergency box of food supplied by the RVCA.  If an emergency box is needed, you may contact the pastor of an area church who can forward your phone number to a food pantry volunteer who can help you or you can fill out this form.
The U.S. Department of Agriculture (USDA) prohibits discrimination in all its programs on the basis of race, color, national origin, sex religion, age, disability, political beliefs, sexual orientation, or marital or family status.  (Not all prohibited bases apply to all programs.) Persons with disabilities who require alternative means for communication of program information (Braille, large print, audiotape, etc.) should contact USDA's TARGET Center at (202) 720-2600 (voice and TDD).
To file a complaint of discrimination, write USDA, Director, Office of Civil Rights, Room 326-W, Whitten Building, 1400 Independence Avenue, SW, Washington, D.C. 20250-9410 or call (202) 720-5964 (voice and TDD).  USDA is an equal opportunity provider and employer."